Apraksts
The Wall Bars with Accessories BenchK 112 are high-quality wall bars that would fit into any home setting. The oval beech bars with a 30 x 40mm profile are pleasant to touch and allow for a perfect grip. The wood is not varnished but hand-oiled. As a result, you won't have to worry about varnish peeling off the wall bars. Also, it extends their service life. These wall bars were designed down to the last detail – the anchor bolts look luxurious, making the Wall Bars BenchK 112 not only a piece of exercise equipment, but also a stylish piece of furniture.
Intended for home exercise, these wall bars will help you improve your fitness, strengthen your muscles and improve your balance. They come with a hanging wooden pull-up bar, which can be easily attached to one of the cross bars, that allows you to exercise back muscles and the rest of the upper half of your body. Children might also appreciate the other included accessories – the gymnastic rings with strong, length-adjustable straps and the hanging swing with a 30cm seat.
Their height (220 cm) makes the wall-mounted Wall Bars Benchmark 112 suitable for almost all ceiling heights. If you are looking for a universal station for a full body workout, then the Wall Bars BenchK 112 are the perfect choice.
Wall bars are a great multi-purpose exercise tool. However, their versatility can be further expanded via various accessories.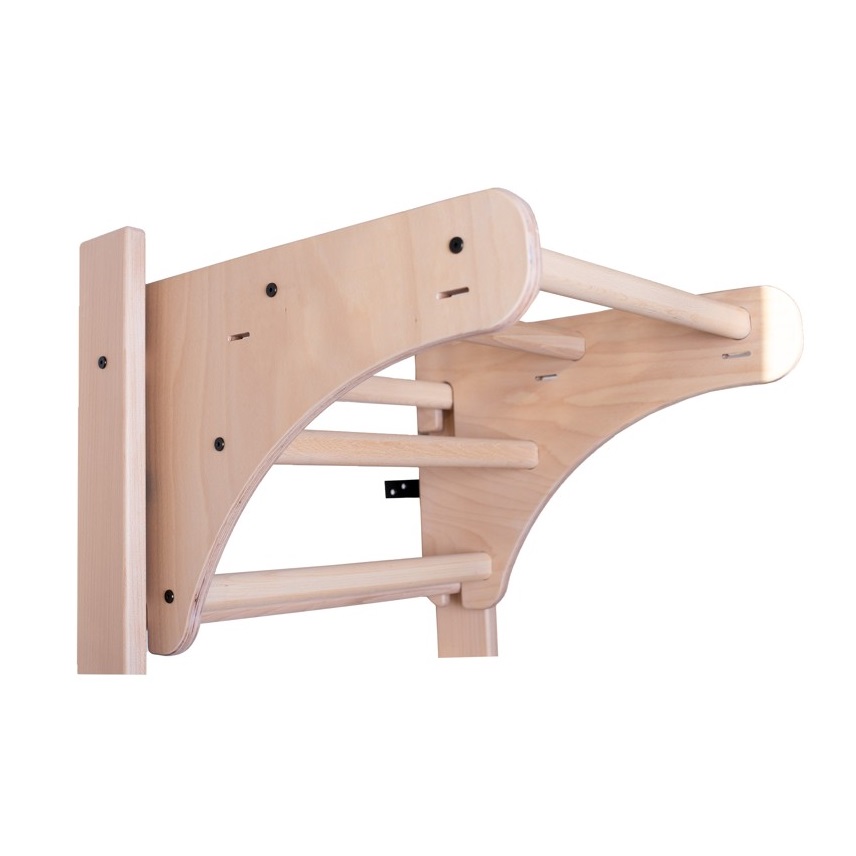 Thanks to the included pull-up bar, for example, you will be able to exercise back muscles and the rest of the upper half of your body. You might also appreciate one of our resistance bands. They provide resistance and lower the weight you work with and as such allow even beginners to handle these hard exercises. But if you consider these kinds of exercises too easy, you can try working with body weights.
A suspension system is another popular accessory. It can be easily attached to one of the cross bars, offering a variety of bodyweight exercise options. You might appreciate its compact size, high weight limit and wide range of length adjustment.
You can also attach exercise bars or resistance bands, which work with resistance and are suitable for everyone (thanks to their versatility). They are perfect not only for stretching, but also help those with muscle coordination problems or those recovering from an injury.
Last, but not least, you'll surely appreciate a bench for wall bars, suitable for jumps, sit-ups, dumbbell exercises, etc. Buy one of these accessories and use your wall bars to the fullest.
Technical description:
High-quality beechwood wall bars
Wood is hand-oiled for outstanding properties and long service life
Removable wooden pull-up bar, which can be easily attached to one of the cross bars
Gymnastic rings with strong, length-adjustable straps
Hanging swing with 30cm seat
8 oval bars
Wall-mounted
Compatible with various accessories
Easy maintenance
Quick and easy assembly
Wall bar height: 220 cm
Wall bar width: 67 cm
Wall bar and pull-up bar weight limit: 120 kg
Gymnastic ring and swing weight limit: 50 kg
Bar profile: width 30 x height 40 mm
Distance between bars: 28 cm
Outer ring diameter: 15 cm
Inner ring diameter: 11.5 cm
Max strap length: 150 cm
Swing rope length: 210 cm
Swing rope diameter: 3 cm
Weight: 23 kg
Delivered disassembled
Made in EU
Note: mounting parts (screws and dowels) for attachment to wall are included. However, different types of masonry require different type of attachment. If you're not sure which one to use, contact a professional.